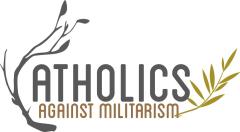 Catholics Against Militarism (CAM) website:
www.catholicsagainstmilitarism.com

CAM podcast and YouTube Channel:
https://www.youtube.com/channel/UCc1nSUTY-wNdsKxSzmUOzCA

CAM podcast Rss feed:
http://www.buzzsprout.com/296171
CAM on Rumble:
https://rumble.com/c/CAMpodcast
Note about the podcast:
I started the Catholics Against Militarism (CAM) website in 2013 and the CAM podcast in 2019. The podcast was published with audio only on Buzzsprout, and with video on YouTube.
In 2020, I started publishing satirical videos on the YouTube channel. YouTube eventually gave me "two strikes" for wrongthink, suspended my account, and threatened to take down my whole channel. (Yay, freedom!) As a result, I had to delete some podcasts from YouTube, and all of my satire.
All of the podcasts that weren't satirical videos are still available at Buzzsprout.
The satire has been moved to Rumble.
Plug for the podcast from a listener:


Dear Ellen,

I found your Podcast about a year ago and I love it so much. I have listened to many episodes multiple times and it's generally my "go-to place" when I feel down. Thank you so much. Also, your introduction of Emmanuel Charles McCarthy's work changed my life.
Thank You!

Wishing you the best... from Essen, Germany